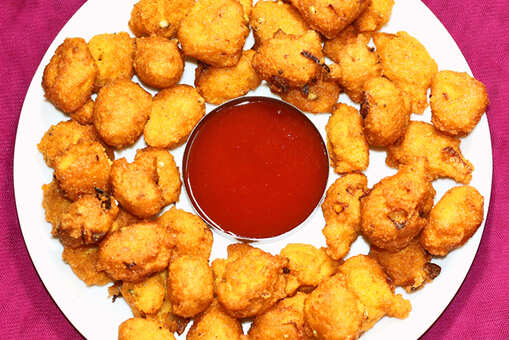 Total Time 25m
Prep Time 10 m
Calories 463
Come monsoon and we all feel like having masala chai with pakoras! Peanut Pakora is a delicious snack recipe that can be easily prepared at home with common ingredients. For cooking this crunchy and delectable North Indian recipe, raw peanuts are first shallow fried and then dipped into a batter of gram flour, rice flour, and a melange of spices. These batter dipped peanuts are then deep fried in refined oil. If you use mustard oil for frying the pakoras then it will increase their taste. This is a must try snack recipe in winters and on occasions like kitty party, game nights and picnics, and is best enjoyed with mint chutney.
6 Serving
2 cup raw peanuts
1/2 cup water
3 teaspoon red chilli powder
1/2 teaspoon citric acid
1 1/2 cup refined oil
salt as required
1/2 teaspoon crushed cumin seeds
For The Main Dish
1/2 cup gram flour (besan)
4 tablespoon rice flour
How to make Peanut Pakora
Step 1: To prepare this amazingly delicious snack recipe, take a large bowl and add gram flour, rice flour, red chilli powder, cumin seeds to the bowl along with two tablespoons of Shree Aashirwad Groundnut Oil, citric acid, and salt. Mix well all the ingredients and then add water in the mixture. Stir to prepare a thick batter for dipping the peanuts.
Step 2: Next, put a frying pan on high flame and heat four tablespoons of oil in it. When the oil is hot enough, lower the flame. Then after two minutes, add the raw peanuts in the pan and shallow fry them till they turn light brown.
Step 3: When done, turn of the burner and transfer the peanuts on an absorbent paper, so that it soaks up the excessive oil. Let them cool at room temperature.
Step 4: Now, mix the fried peanuts in the gram flour and rice flour batter and mix well. Next, put a kadhai on medium flame and heat oil in it, when the oil is hot enough, take a small portion in your hand and carefully place it in the kadhai.
Step 5: Deep fry these peanut pakoras until they turn light brown in colour. Put these pakoras on absorbent paper and serve with mint chutney and tomato ketchup.